9 Budget Bridal Shower Gift Ideas She'll Love
Posted by The Trivae Girls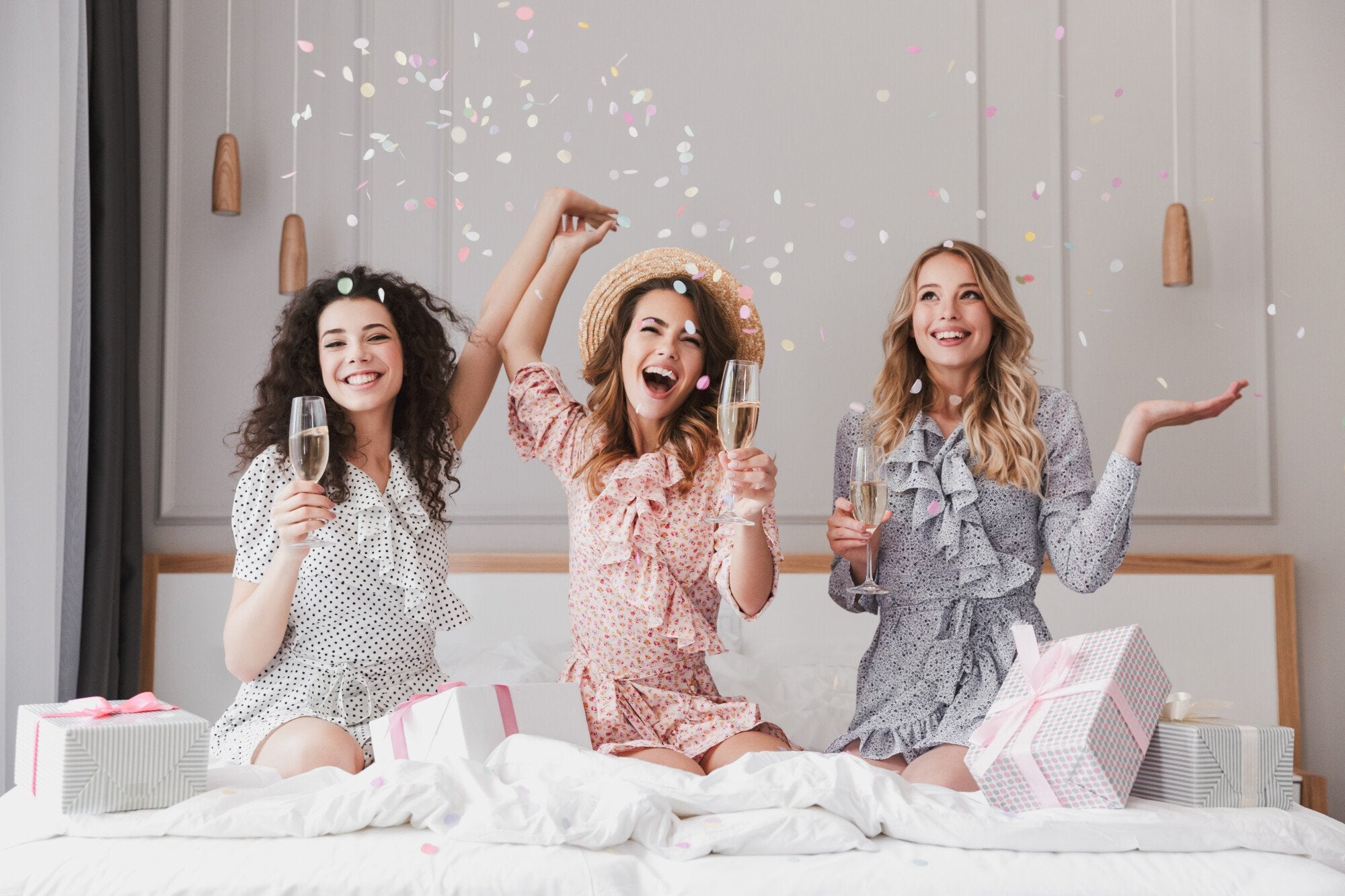 Your friend has been with you through thick and thin. She supported you during romantic breakups and makeups, and you couldn't be happier to show your appreciation during her upcoming bridal shower.
And now for the all important question...how much should you spend on her gift?
Many people spend between $50 and $75 on wedding-related gifts. Closer family and friends spend more than $100. The amount is ultimately up to the individual, so don't feel pressured to spend more than you can afford. 
If you're looking for a way to "wow" the bride-to-be without breaking the bank, you've come to the right place. Let's explore nine inexpensive bridal shower gift ideas she'll love.
1. Silk Robe Or Pajama Set
Beautiful (and inexpensive) bridal shower gifts for her include silk robes and pajama sets. A satin robe can become essential to your friend's wedding day prep, keeping her feeling classy when she's photographed while getting her hair and makeup done. Luxe pajamas will also keep her feeling comfy before she slips on her wedding dress.
Search for a robe with a belt and inside closure to keep the kimono in place. Choose robes with V-shaped necks and lace trim to make her look and feel sexy.
2. Wax Candle
Are you looking for bridal shower gifts for the bride who has everything? Look no further than a wax candle.
Some of the best scent options feature lavender, citrus, and vanilla hints. The soothing smell of lavender is ideal for a bride-to-be to help reduce any anxiety and stress during the hectic wedding prep season.
Citrus is another top choice since this energizing and fresh scent may boost your friend's mood and creativity. Vanilla is a comforting and cozy scent that might spark feelings of romance and happiness. It'll be perfect for helping your friend set the right mood during her honeymoon. 
3. Bride Crown and Sash
Another great idea for bridal showers is a bride crown and sash combo. These items are ideal for making your friend feel special in the weeks leading up to her wedding, most especially during her bridal shower.
Pick a crown with sparkly rhinestones to make your friend feel like a queen. Her sash should ideally feature glitter and phrases like "Bride to Be" to add excitement to the moment. Don't let her leave the bridal shower venue without taking photos in her sash and crown for all the socials. 
4. Pot Lid Holder
Does your friend love to cook or have secret dreams of being the next Top Chef? If so, you should definitely add a user-friendly all-purpose kitchen tool to the top of your gift list for the bride-to-be. One popular option (if we do say so ourselves) is our Trivae pot lid holder and serving stand combination.
This little do-it-all kitchen wonder is a convenient stand to hold hot lids during cooking, keeping drips and messes contained inside the lid. So your friend's hands stay free to spice, stir and taste her culinary creations to perfection. When not in use, it's a real space saver too and folds up to store compactly in any kitchen drawer. 
The Trivae kitchen tool can support dishes as heavy as 10 pounds so the serving stand is excellent for appetizers, pizzas, and party platters. Your friend will love how it maximizes her serving and display space when she's entertaining her guests.
Another benefit of the Trivae tool is its expandable trivet feature. When it's time to eat, our kitchen tool goes from kitchen to table and conveniently elevate hot dishes, pots and pans to protect dining tables and countertops from heat damage. It's heat resistant up to 475 degrees Fahrenheit so dishes directly from the oven can be placed right on top. 
Home chefs can use this feature to simultaneously elevate two serving trays, platters, cookie sheets, and casseroles. The bride-to-be in your life won't need multiple trivets (or too many other kitchen tools) anymore.
5. Portable Jewelry Box
Is your friend a jewelry lover? Treat her to one of the most unique gifts for a bridal shower: a jewelry box she can easily take on the road.
The bride-to-be will enjoy carrying her favorite necklaces, earrings, rings, and bracelets on her honeymoon and beyond in a travel jewelry box or bag. You can even personalize the case with your friend's name for a special touch if the budget allows. 
6. Tote Bag
Bridal tote bags make excellent last-minute bridal shower gifts. They're an absolutely must-have for a bride-to-be to hold all of her essentials on the wedding day and during the honeymoon, including:
Backup clothes (e.g., button-down shirt)
Backup shoes (e.g., flats)
Hair supplies (e.g., comb, mini hairspray, and bobby pins)
Makeup tools (e.g., lipstick and mascara)
Look for a tote bag with the word "Bride" to set the right mood with that special reminder and be sure to choose one with built-in pads at the bottoms to keep it clean and all her belongings inside safe from damage. White and black bags are ideal color options that touch of sophistication and to match any ensemble.
7. Dress Hanger
Yet another inexpensive bridal shower gift your friend will appreciate is a hanger for her white dress. Every wedding dress deserves its own hanger, especially one made of high-quality wood like walnut or maple. Give your friend a special place to display her dress and keep it clean and wrinkle-free before the ceremony.
Customize the hanger by adding a bow featuring one of her wedding colors. These hues may range from white to purple, red, and aqua. Ensure your friend's wedding photographer snaps a few iconic photos of the dress and hanger together. 
8. Straw Beach Hat
Suppose the bride-to-be in your life plans to visit a tropical destination with her future husband for their honeymoon. Help her celebrate this unforgettable vacation with a stylish beach hat bridal shower gift.
Choose a hat with a wide brim that not only shields your friend's eyes, ears, and neck from the sun's sunburn-causing ultraviolet rays but adds a touch of chic to her beach ensemble. The best hat also comes with an inside sweatband to keep the wearer's head cool and dry. 
9. Wedding Collage Photo Frame
No list of the top inexpensive bridal shower gifts would be complete without a collage picture frame. Your friend will be excited to add photos from her big day to the frame and display them for family and guests.
Encourage your friend to add photos from different stages of the soon-to-be newlyweds' relationship. Images from their early dating days, the proposal, the wedding day, and the honeymoon would all combine for a one-of-a-kind "story of us" collage and make your bridal shower gift an unforgettable one. 
Inexpensive Bridal Shower Gift Ideas
Yes it's absolutely possible to "wow" the bride-to-be on a budget and hopefully this gift guide gave you some great ideas for inexpensive bridal shower gifts that she will absolutely love. From silk robes and wax candles to tote bags, portable jewelry boxes, collage picture frames and multi-purpose kitchen tools, we covered it all. 
For our part, we think our Trivae four-in-one kitchen tool should be at the top of your gift list. This tool is perfect for brides-to-be who are avid home cooks or amateur chefs-in-training who love entertaining at home. Receive 10% off by joining our email list today!