A Guide to the Best Decorative Serving Platters for House Parties
Posted by The Trivae Girls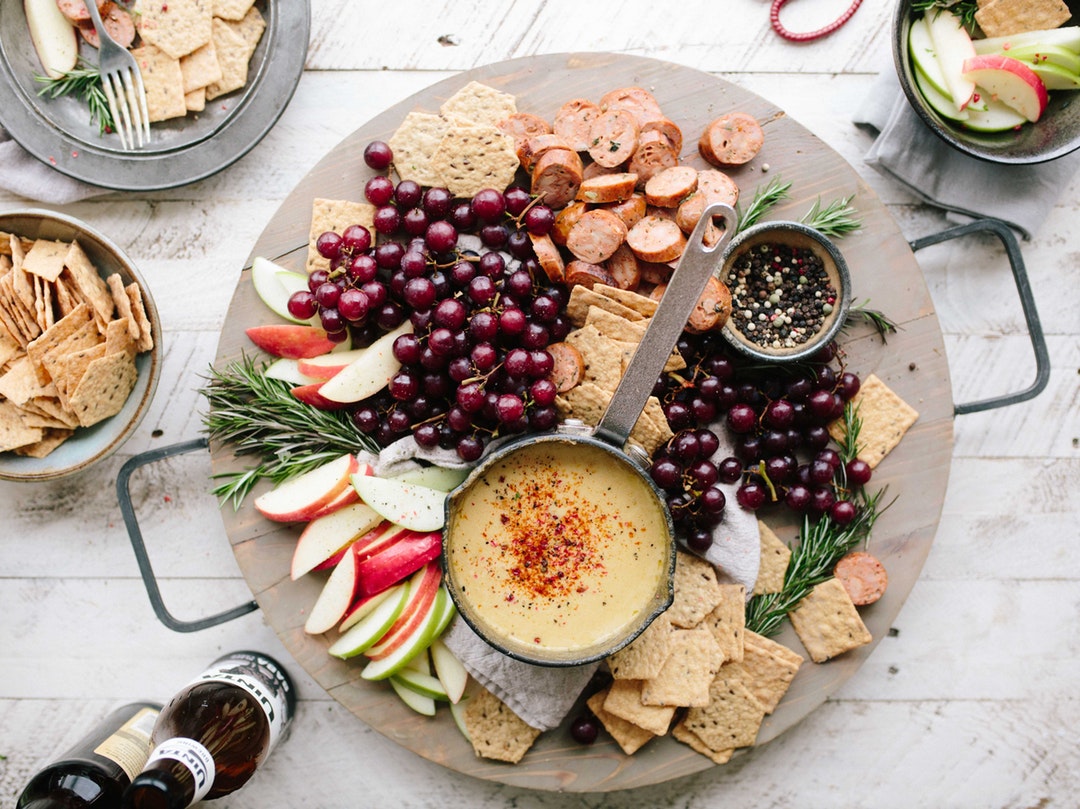 Expect dinner parties to become all the rage in a post-2020 world.
Studies show that people are 25% more likely to want to host company in their homes today. But while you're busy trying to create memories, fill bellies, and have a good time with loved ones, don't forget the presentation part of the equation. 
Arming yourself with the right food displays and kitchen gadgets will help you make the most of your get-togethers.  
That's exactly why we wrote this article! Read on to learn all the ins and outs of decorative serving platters so that you can take your food displays from "present" to legendary. No thanks needed! 
What Exactly Are Decorative Serving Platters?
Decorative serving platters are pieces of kitchenware that serve groups of people when it's meal time. These serving platters often serve multiple functions. 
They keep the food hot and fresh while holding plenty of it for people to either grab on their own or have a host distribute it. When hosting meals at your home, visual appeal is as important as any other part of the preparation. 
There are all sorts of platters that you can shop for depending on what kind of event you're hosting. When you chat with a company that specializes in these tools, you'll be ready to chef it up in no time.  
Consider Your House Party
It's never a bad time to host company in your household. Each season brings its own reason for celebration and reflection, and bringing people into your home builds bonds and sets markers for the year. 
Do your best to throw a house party to remember. In planning your party, consider the following points so you can find the right serving platters:
Think About the Theme
You're more likely to select a certain type of serving display when your event has a theme. For example, if it's Christmas time, you might look for platters that are green, gold, or red and with decorative features that bring in the holiday cheer. 
Perhaps you're putting together a Mother's Day event for the special lady in the household. For a summer party, you might choose tropical-colored dishes for your fruit and appetizers. 
Keep the aesthetics in mind and it'll help you find the right serving platter for the event.  
Highlight the Food in Focus
If you're going to get the most from your serving platters, make sure that you place a priority on the food that you're serving. This is important since events are often centered around the main course. 
It can include things like holding a pizza party, a fish fry, or a barbecue. With these events in mind, you'll have several specific options to choose between. Some examples of serving platter displays that you might look into include a hot pot holder, a pizza stand, a cooling rack, and others that can help you. 
Pay Attention to the Elements
When you're shopping for serving platters, always make sure that you take into account the weather, temperature needs, and other elements. This is where things like a cooling rack can help. 
If you need to maintain the temperature of foods like seafood, desserts, and salads, having access to this rack can come in handy. You can also look for heating elements that will keep the food that you're serving warm. 
Outdoor entertaining lets you enjoy any food that you'd like regardless of what's happening with the weather. Having access to the right serving platters makes entertaining at home a breeze. Think about the materials that the serving platter is made from as well. 
A silicone trivet lets you serve foods that are in a variety of temperatures while preserving the flavor and quality. 
Consider the Shape of the Platter
It's easier to highlight your food with aesthetics in mind when you consider the shape of the platter. This brings attention to the food presentation, no matter what kind of dishes you're displaying. 
When you use rounded platters, it's an excellent choice for creating a relaxed presentation for your event. Square or rectangular platters let you host several different dishes and are excellent for buffet-style or grab-and-go gatherings. 
There are also plenty of uniquely-shaped platters that you can use when hosting events of different themes. Figure out what makes the most sense for your event and work with a company that can help.  
Consult With the Chef or Caterer
In general, companies that offer decorative serving platters work side-by-side with chefs, cooks, and caterers. Before moving forward with your event, get their input on the food display options available. 
This gives the cook or caterer a chance to leave their stamp on the event and offer their vote on platter options. Having the right platters available can be the icing on the cake and will let you leave the right impression on your guests. 
It helps to give your chef the last say so that they are satisfied with the presentation as a whole.   
Shop for Different Food Displays
After you think about the type of house party you're throwing, it's time to explore your platter options. In doing this, you'll be able to mull through selections until you find the most practical fit for your event. 
Keep these tips in mind when ordering what you need: 
Find a Quality Company
First things first, make sure to find a quality company to do business with. This way, you'll be able to put full trust in their platters, the inventory that they have in stock, and the quality of customer service you'll receive. 
When in doubt, check out their verified reviews to see what previous customers are saying about them. This tells you a lot about the company and will help you determine whether or not they're who you'd like to do business with. 
Find out how long they've been in business, what events they specialize in, and how you can make the best arrangements with them.  
Plan Your Layout
Next, make sure that you are clear on your layout and where food will be served. Consider the amount of space you have in your kitchen or serving area so that you can always get the most from it. 
Once you know how much space you have to work with it'll be easier for you to decide on the right type, size, and amount of serving platters you need. Take this time to plan out enough space for people to be served in an organized manner without it being too cluttered or congested.  
Consider the Platter Shape
After you've found a company that you feel comfortable doing business with, look into the different platter shapes that they offer. You may be able to choose between options like round, oval, star, or flower-shaped platters. 
Mixing and matching these different platter options can help you add more flexibility to your display and get the most from it.  
Ask About the Material and Size
Always get clarity on the specifications of the platters, starting with the material and the size. This will give you the chance to accommodate whatever foods you're serving. 
Some examples of materials that platters are made from include stainless steel, copper, glass, ceramic, and aluminum. Look for the exact dimensions of the platters as well so that you're able to keep the food in the right temperature and optimal serving condition. 
Explore Your Cost Options
When deciding on food serving platters, take the time to also explore prices. Discuss these details with a company that can offer you as many platters as you need for your event. 
Get a headcount for the people that you invite, and consider doing RSVPs or eVites so that it's as precise as possible. With this in mind, decide whether you want to purchase your platters or if you'd like to work with a company that rents them. 
If you're going with rentals, book the number of platters that you need as far in advance as you can so that you're able to lock in a rate that works for you. Ask about any bulk discounts, and don't hesitate to compare rates between different companies.
By shopping around early in the process, you can set a budget that you can feel good about for your event.  
Use the Best Food Displays
Decorative serving platters offer an excellent way for you to host company and present the food in a mouth-watering way. Now all that's left to do is shop around for the platters that will put it all together.  
Serving platters come in a wide variety of shapes and sizes and will help you contain your food for everyone to enjoy. It pays to match these platters with a display arrangement that props the platter up, controls the temperature, and lets you keep your food ready for your guests to enjoy. 
If you are ready to get the most out of your kitchen and food service, Trivae can assist you. When you're ready to contact us, drop us a line on our site or call (571)781-2224.