9 Must-Have Accessories for Kitchen Cabinets
Posted by The Trivae Girls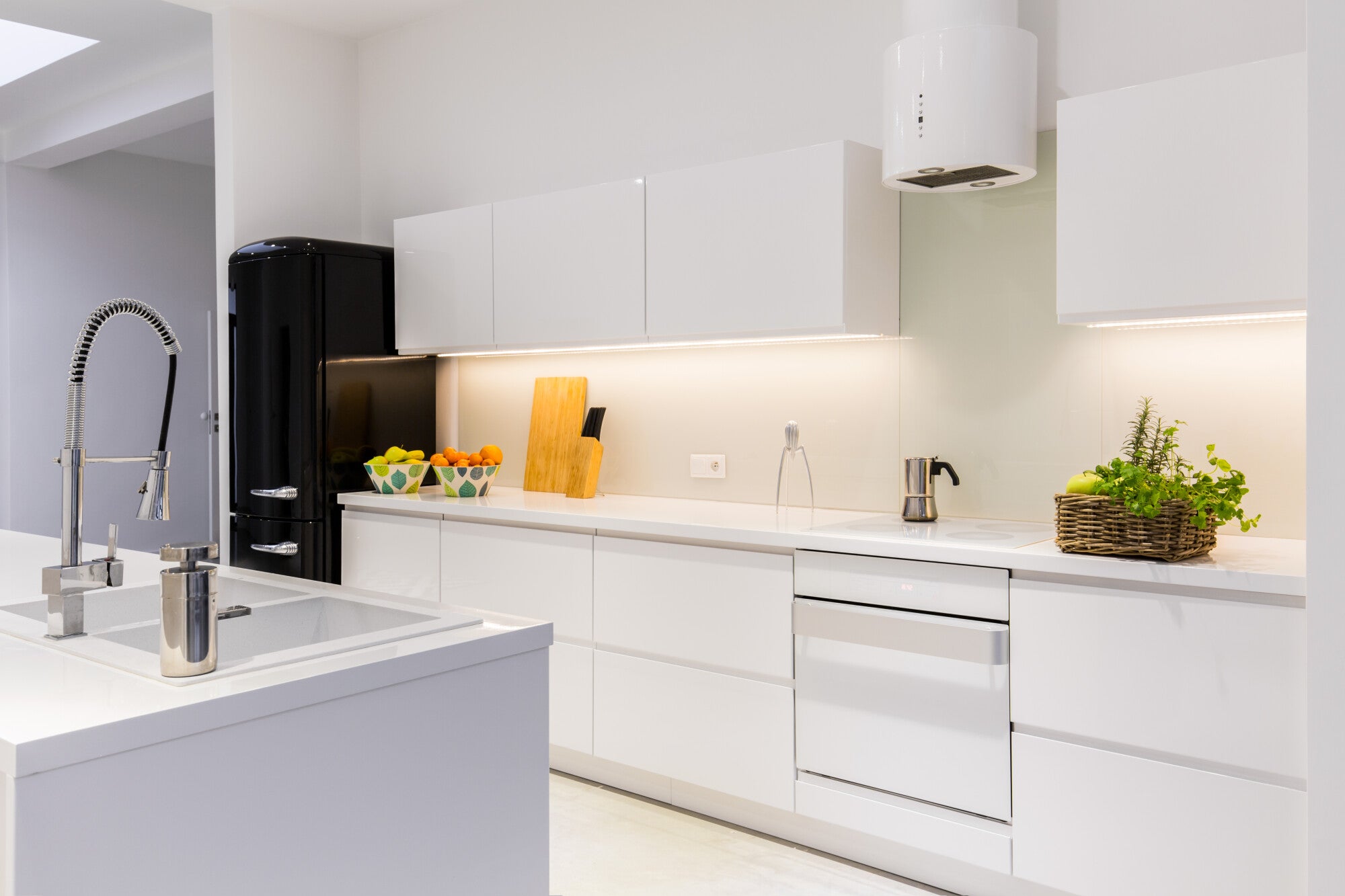 Find yourself in the kitchen all day? You aren't alone. Many people like you spend over 400 hours a year cooking, eating, and enjoying family company in this room alone.
Unfortunately, you may often feel like you spend way too much of your day in the kitchen. It's usually those little time-wasters that add up over the year. Little kitchen upgrades in accessories for kitchen cabinets can help you get things done faster... making every second you spend in the kitchen more productive and most importantly, more enjoyable.
To start you off, we've got 9 kitchen cabinet accessories for you to consider to level up your cooking space.
1. Roll-Out Trash Can
Optimizing your kitchen space ensures you make the most of what's normally a seemingly tightly-packed area. Yet even with that accomplished, most kitchens still have one big obstacle that's always in the way: the garbage can.
Most people put their garbage can off to the side of the kitchen cabinets, or next to the island. And we all know that may not be the most convenient solution with the whole family bustling about in a small space. After all, most kitchens are only about 161 square feet-not exactly a convention hall.
Solve that problem with a roll-out trashcan installed in a cabinet. You pull it out when you need it, then close it when you don't, keeping walkways clear. It improves the aesthetic, too, so you don't have an ugly trashcan clashing with your decor.
2. Roll-Out Kitchen Drawers
Speaking of a roll-out kitchen trashcan, that's not the only inconvenience. Think of that bottom drawer where you store pots and pans, or your pantry cabinets. Replace them instead with roll-out kitchen drawers and experience the difference.
This makes those deep cabinets more accessible without having to practically crawl inside them to get what you need. Aside from easier access, it adds no additional clutter to your home. In fact, it might help de-clutter things since the pull-out drawer makes organization much easier.
3. Blind Corner Pull-Outs
Rolling with our theme of roll-outs (see what we did there? :-) ), there's another area in your kitchen that's notoriously inefficient: blind corners. We're talking about those corner cabinets where one side goes deep into the wall. It's a huge pain to rifle through things in a dark, hard-to-reach area that would be wasted, empty space otherwise.
Enter the pull-out. It's better than a Lazy Susan in this instance since it maximizes that space and is easy to use. It usually comes in the form of a tray on rollers that fills the entire corner. Pull it all the way out, get what you need, and slide it back in.
4. Corner Carousels
A blind corner pull-out works great when it comes to the bottom-level cabinets, but not so much with the upper cabinets. If you've got a corner cabinet over the counter, you know what we mean. Pull-outs would require a stepstool to access what you're storing, not so with a carousel.
Carousels are multi-level Lazy Susans that maximize these corner areas. Just spin the carousel to get what you're looking for... easy peasy.
5. Cutlery Organizer Block Drawer
Most people have a cutlery organizer in their kitchen drawers, but we all know that's not enough for all the silverware. Every day forks and spoons need to remain separate from your fancier, formal dinner silverware. That's where the block drawer organizer comes in.
This is a replacement for your existing spoon and fork drawer. It incorporates multiple levels of organizer trays that slide in and out. You just pull open the organizer you need, all without having to change the dimensions of the drawer. So convenient!
6. Pull-Out Spice Drawer
If you've got one of those skinny cabinets next to a washing machine (and a ton of spices), this one's for you. This is a multi-level pull-out that works best in a tall cabinet no wider than a foot.
You can stack your smaller spice bottles on the top shelf, with the taller ones and liquids on the larger shelves beneath. This requires sacrificing one of those narrow cabinets you might use for cookie sheet pans and cooling trays, but it's well worth it, we promise!
7. Above-Cabinet Wine Pidgeon Holes
A wine cabinet is a great upgrade for lovers of the grape, but what if you only imbibe occasionally? Wine bottles can take up a ton of space if stored horizontally (the correct way) in a cabinet. Chances are, though, that the area above your cabinet is open and unused.
Get yourself a few crisscross pigeon holes and store your wine there instead. It's usually a cool place that's out of the light, perfect for wine. Plus, it adds a nice decorative touch that's also useful.
8. Drawer Peg System
Got a deep, waist-height drawer that you could be using better? A peg organization system might be just the the thing you need to optimize that space.
When we say pegs, we're not talking about the ones you hang jackets or keys on. These are pegs installed horizontally inside a drawer to organize your different sizes of plates. You screw them into a grid so they fit exactly around different plates, bowls, and serving trays.
It makes it so much easier to organize things when you'd otherwise just stack them and pray for the best.
9. Under-Sink Cleaning Supplies Storage
Most people keep their cleaning supplies underneath the sink. The thing is, this area is often the most disorganized mess of the entire kitchen. You've got garbage bags, sponges, bottles of dish soap lying around haphazardly and who knows what else.
Just like corner cabinets and storage cabinets for pots and pans, this area tends to be annoying to get to. The pipes from the sink are always in the way, and it's easy to bang your head on the garbage disposal while peeking inside.
Instead, use a roll-out shelf to organize your cleaning supplies. Same as before, it makes it dead simple to grab a new sponge or all-purpose cleaner without getting down on your hands and knees.
Find Accessories for Kitchen Cabinets and More at Trivae
Simple accessories for kitchen cabinets such as the above can be life-changing for your kitchen (and your sanity). A roll-out trashcan or new spice cabinet can make the space not only more efficient but easier to use. And the best part is that most of these upgrades are easy enough to install in a day.
Trivae is your source for tips, tricks and ideas on all things homemaking. We're also the home of our famous Lid Holder & Modular Trivet. Use this compact, intuitive 3-in-1 tool to upgrade your counter space today!